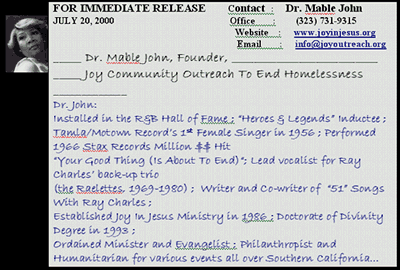 Celebrities Unite to Support The "Joy Community Outreach"
Goal to End Homelessness.
On August 11, 2000, the Wyndham Bel Age Hotel, located at 1020 North San Vicente Boulevard, will host the 7th Annual Joy Community Outreach To End Homelessness Celebrity Auction ceremonies from 5:00pm until 9:00pm. General Admission Tickets are $50.00. A light buffet will be served.
Celebrity Sports, Music and Entertainment personalities are donating priceless auction artifacts
and signed memorabilia, while extending countless hours of dedicated charitable community service in their tireless efforts to provide a strong alliance of support to the plight of ending homelessness. Donations, from compassionate representatives of Restaurants, Vendors and Merchants committed to this cause, are still pouring in. These donations will be used to benefit the Joy Community Outreach To End Homelessness Feeding and Educational Training programs.

This year's Honorary Chairperson, Tova Borgnine, respectfully called "Tova", is an amazing, extraordinary, 1999 Virginia Clinton Kelley Humanitarian Award winner, who has unselfishly extended countless hours and service to assist Dr. Mable John, the Founder of Joy Community Outreach To End Homelessness. Tova is a popular celebrity host of "Beauty by Tova" on QVC and she is the owner of the Tova Corporation. Tova owns the "Body, Mind and Spirit" salon in Beverly Hills. Tova has successfully used QVC and her Beautybytova.com website as interactive mediums to advertise her impressive selection of skin care products, services and magnificent fragrances, including her "Tova Signature" fragrance, "Body, Mind & Spirit" fragrance, and her International Fragrance Foundation's FiFi Award winning "Tova Nights" fragrance. In 1998, not only did Tova break all previous QVC sales figures with the "record time" sell of 100,000 fragrance collection gift sets, her overwhelming audience response "overloaded" QVC's massive phone system. Tova's Signaturefragrance has exceeded sales of 5 million units and she has expanded her clientele and QVC audience to include the QVC-United Kingdom and a Spa in London's Athenaeum Hotel. Tova is an avid participant in charitable
services and breast cancer awareness projects. She has been ranked as one of "Working Woman" magazine's "Top 500 Woman-Owned Businesses". Tova sits on the Board of the American Scandinavian Foundation, the Board of Junior Achievement, the Board of Global Cosmetic Industry, and ICMAD. Tova was named the Associate Beauty Editor of "We" magazine and the "Wemedia.com" website. Tova also wrote "Being Happily Married Forever", which was selected by the Literary Guild as the Alternative Book of the Month.
One of this year's Auctioneers is an outstanding personality who made sports history when she became the First and Only Female Boxing Referee to officiate a World Title bout, Ms. Gwen Adair. In addition, that World Title bout took place in Tijuana, Mexico where, prior to her commendable achievement, females were not allowed to enter the ring in a capacity other than as a "card girl". Ms. Adair has been a licensed Boxing Referee and Judge since 1980 and a Member of the California Referees Association for more than 17 years. She has officiated over 700 amateur and professional bouts, two World Championship Title bouts, seven National Championships and three Minor Championships. Ms. Adair is also a successful actress. She appeared as "Nurse Gwen" in eighteen episodes of "M*A*S*H". She also starred in
the "Starsky & Hutch" television series and "The Poseidon Adventure" movie.
Joining Ms. Adair is another talented Auctioneer, astonishing professional in the Entertainment Industry and Emmy Award Winner, Mr. Roger E. Mosley. Mr. Mosley is a celebrity spokesperson for numerous charities,including the Los Angeles Sickle Cell Disease Research Foundation, the Remedial Reading and Learning Centerand a Masters Program for the Education of At-Risk Youth in Santa Fe, New Mexico. Mr. Mosley's spectacular acting accomplishments includes the role of "Milt", a Vietnam war veteran and former helicopter pilot, in the successful Showtime series entitled "Rude Awakening". Mr. Mosley also contributed to the phenomenal success
of the "Magnum P.I." series as an accredited Writer and Director of several episodes. Mr. Mosley was recognized by millions as Tom Selleck's Vietnam war comrade who owned a Hawaiian helicopter service on the Magnum P.I. series. Mr. Mosley won an Emmy Award for the television production of "Run Down the Rabbit". Mr. Mosley has also starred in movies opposite personalities such as Denzel Washington, Kurt Russell, Ray Liotta, Madeline Stowe, Patrick Swayze, Dolph Lundgren, Lou Gossett, Jr., Ruby Dee, Bea Richards and Martin Lawrence in "Heart Condition", "Unlawful Entry", "Letters From a Killer", "Pentathlon", "Zora Is My Name" and "Thin Line Between Love and Hate". Mr. Mosley also starred as the role of "Coach Ricketts" on "Hanging With Mr. Cooper".
Joining Ms. Adair and Mr. Mosley as an Auctioneer is Mr. D.J. Rogers, a prominent and extraordinary native Los Angeles Entertainment personality. Mr. Dewayne Julius Rogers, affectionately known as "D.J. Rogers", is an accomplished International Producer, Singer, Music Composer, Music Arranger and Public Speaker. "D.J." Rogers became a Minister in 1981 and has used his spiritual forum, as well as his infectious humor, as a successful means to reach out to troubled youth affected by drugs, violence and negligence. His services for revivals and special events are in high demand, ranging from local fans in the United States, and reaching
international audiences such as Europe, Japan, Australia and Africa.

Television Hosts, Soap Opera, Independent Film and Broadway Stars will be uniting to show their sincere support of this event. Soap Opera stars attending from NBC's "Days Of Our Lives" are Patrika Darbo (Emmy nominee), Kevin Spirtas (also a professional singer & former Broadway star), Kirsten Storms (also starred in the Disney Channel's "Zenon" movies), and Matt Cedeno (also starred with Jimmy Smitts in "Price of Glory" film).Soap Opera stars attending from NBC's "Passions" are Mary Elizabeth Winstead (also starred with Scott Bakula in the pilot film "Dad Can't Cope") and Eva Tamargo-Lemus (also starred in the Independent film "Silence of Neto").
Kathleen McClellan (star of "Battledome", former supermodel and host for Warner Brother's Feature Film Premiers) and Leighanne Wallace (fiancee of Backstreet boy Brian Littrell and star of upcoming independent film "Olive Juice") will also be on hand to show their charitable support.
Many of this year's auction items have been donated by Quincy Jones, Denzel Washington, Holland Dozier Holland, Whoopie Goldberg, Sinbad, Bill Cosby, Berry Gordy, Michael Jackson, Dan Akroyd, Ray Charles, Anna Maria Horsford, Mary Wilson, Nancy & Ronald Regan, Marlena Shaw, Jerry Butler and Gene Chandler, just to name a few. Gift certificates, hotel accommodations, artwork, beauty treatments and restaurant certificates have been donated by Fanciful, Hugo's, Miss Grace Lemon Cake Co., Marriott Hotel & Resort, Avirex, Hampton's Hollywood Cafe, Donna Summer, Sharmelle Jewelers, TOVA, Miller London and many others.
The goal of this year's 7th Annual Joy Community Outreach celebrity auction is to raise $100,000 in an effort to secure a permanent home for the Joy Outreach Ministries, continue to address lifesaving clothing and hunger requirements of those in need, and to maintain the crucial training and educational counseling services that are extended to impoverished Los Angeles families and communities.
[Top]